Azerbaijan is officially known as the Republic of Azerbaijan which is a transcontinental country located in Eastern Europe and Western Asia. It is bordered by the Caspian Sea to the east, Russia (Republic of Dagestan) to the north, Georgia to the northwest, Armenia and Turkey to the west and Iran to the south. Baku is the capital and the largest city of Azerbaijan. The other major urban areas include Sumgait, Ganja, Lankaran, Mingachevir, Nakhchivan, Shirvan, Shaki and Yevlakh. The official language of the country is Azerbaijani or Azeri. Azerbaijan is well known for its most unique way of celebrating their festivals like Baku International Jazz Festival, Gabala Music Festival, Pomegranate Festival, Apple Festival, Gara Garayev International Music Festival, Uzeyir Hajibeyov International Music Festival, Mugham World International Mugham Festival, Maiden Tower International Art Festival and Hazelnut Festival. Many foreigners or travelers also take part in the celebration and enjoy it.
Azerbaijan postal code was founded in 1991. The territory is divided into 66 districts and 12 cities. At first there was so much controversy over the places which were registered under the postal code office, but then slowly every region in Azerbaijan got its own postal codes. The pin code is segregated in such a way that each of the postal codes.
Land Area
Azerbaijan has been ranked as the 112th largest nation in the world and it has a total land area of 86,600 km2, which comes to around a total of 33,400 mi2. Azerbaijan was divided into 14 administrative regions namely Baku Economic Region, Absheron-Khizi Economic Region, Central Aran Economic Region, Mil-Mughan Economic Region, Shirvan-Salyan Economic Region, Mountainous Shirvan Economic Region, Ganja-Dashkasan Economic Region, Gazakh-Tovuz Economic Region, Guba-Khachmaz Economic Region, East Zangezur Economic Region, Lankaran-Astara Economic Region, Nakhchivan Economic Region, Shaki-Zaqatala Economic Region and Karabakh Economic Region.
Water Area
Azerbaijan has a total water area of 1.6%. The major sources of water include groundwater, lakes, rainwater, rivers, snow, soil moisture springs, streams, water, waterfall, wetlands, etc. Azerbaijan has more than 450 lakes. Many lakes are small in area and contain a minimum volume of water. Only five lakes with a surface of more than 10 km² found in the country. Most of these lakes are freshwater and some of them are salt lakes.
Mountains
There are 1,503 named mountains in Azerbaijan. The highest and the most prominent mountain is Mount Bazarduzu which is 4,466 meters. The three main mountainous ranges namely Greater Caucasus, Lesser Caucasus and Talysh Mountains. Bazarduzu is the highest peak in Azerbaijan with a height of 4,466 meters (14,652 feet). The major mountains in Azerbaijan are Tengya Alty George, Multi-colored mountains of Khyzy, Lake Goygol, Candy Cane Mountain and Besh Barmag Mountain. Nearly 60% of the land is covered by mountains.
Postal Stamps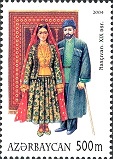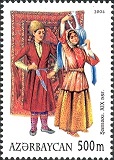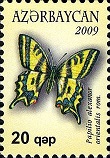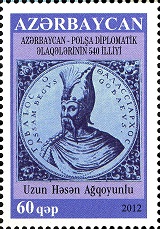 List of postal and courier services in Azerbaijan:
DHL Express
FedEx Express
UPS-AZ
Royal Express
Colibri Express
BakEx Courier