New Caledonia is an island country, a sui generis collectivity of overseas France in the southwest Pacific Ocean, south of Vanuatu, east of Australia. It is located on the Eastern side of Australia. Noumea is the capital and largest city of New Caledonia. The other major cities and towns in New Caledonia are Le Mont-Dore, Dumbea, Paita, Lifou, Mare, Kone, Bourail, Poindimie, Houailou, etc.
The official language of the country in New Caledonia is French. The other recognized official languages in New Caledonia are Nengone, Paici, Ajie, Drehu, etc. New Caledonia is well known for its unique way of celebrating its festivals like the Avocado Festival, Giant Omelette Festival, New Caledonia Triathlon, New Caledonia Ultra Trail, French Cheese Festival, Bastille Day, Trans Caledonian Southern, Bourail Fair, New Caledonia International Marathon, Megarando Biking Event, South Pacific Golf Championship, Francofolies, Blackwoodstock Festival, Underground Gourmet, etc. Many foreigners or travelers also take part in the celebration and enjoy it.
The official name of the postal service in New Caledonia is New Caledonia's Postal and Telecommunication Service (OPT-NC). The postal service in New Caledonia was introduced in 1859 and the name OPT-NC was adopted in 2003. New Caledonia is divided into three provinces namely South Province, North Province and Loyalty Islands Province. It was subdivided into 33 communes (municipalities). At first, there was so much controversy over the places which were registered under the postal code office, but then slowly every region in New Caledonia got its postal codes. The pin code is segregated in such a way that each of the postal codes is.
Land Area
New Caledonia has a total land area of 18,576 km2, which comes to around a total of 7,172 mi2. The entire land of New Caledonia consists of three provinces. The names of provinces are South Province, North Province and Loyalty Islands Province. It was subdivided into 33 communes (municipalities). It was further subdivided into cities, municipalities, towns, and villages.
Water Area
New Caledonia has a total water area of 1.6 %. The major sources of water include groundwater, lakes, rainwater, rivers, snow, soil moisture springs, streams, water, waterfall, wetlands, etc. New Caledonia has more than two lakes and few water bodies. Some water bodies have developed as tourist spots. Many water bodies are small in area and contain a minimum volume of water. Most of these water bodies are fresh water and very few are salt lakes.
Mountains
New Caledonia contains more than 768 named mountains. The highest peak and the most prominent mountain is Mont Panie which is about 1,628 meters (5,341 feet). The other major mountains in New Caledonia are Mount Aopinie, Mont Mau, L'Aiguillon, Yume, Mont Ire, Ilot du Passage, Ile Longue, Ilots Avon, Ilot Loop, etc.
Postal Stamps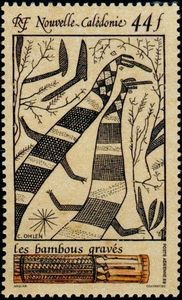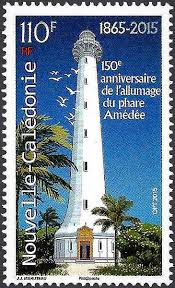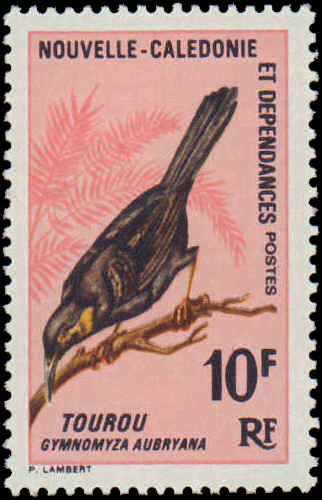 List of postal and courier services in New Caledonia :
DHL Express Service Point
OPT - Centre De Traitement Postal (CTP)
Caledonia Courier
Caledonian Courier Co Ltd
Airborne International Courier Services
Interparcel - New Zealand
Interparcel - Courier & Parcel Delivery in Australia