Bahrain is an archipelago nation which is surrounded by the 33 islands, which is located in the Persian gulf of Middle East, off the coast of Saudi Arabia and Qatar. Bahrain is renowned for the verdant groves of date palms. Bahrain Island is widely believed to be the site of the ancient kingdom of Dilmun.
There are no zip code in some part of the Bahrain nation. There are two ways of sending letters in Bahrain (or packages) by post, 1) to an address where post box number is not available, and 2) to an address with a post box number. To understand more, just follow the following examples: 1) Mr. X Y Z Villa 000, Road 000, Block 000, Manama Kingdom of Bahrain 2) Mr. X Y Z ABC Company, P.O.Box: 000, Manama, Bahrain. In other places Bahrain uses 3 digit zip code system in which the first digit indicates the region or municipality and the final 2 digits indicates the delivery destination.
Land area
Bahrain is ranked as the 173th largest nation in the world in terms of land area details, Bahrain has the total land area of 785km2 which comes around a total of 303mi2. Bahrain nation shares maritime border with nations like Iran, Qatar which lies in the east side of the nation, and Saudi Arabia.
Water area
Bahrain receives groundwater by lateral under-flow from the Damman aquifer, which forms only a part of the extensive regional aquifer system which is the Eastern Arabian Aquifer.The Dammam aquifer system is developed in the Dammam formation and represents the only natural, semi-renewable, relatively freshwater source which is available for Bahrain. The system consists of two groundwater system zones, the Alat zone (termed 'A' aquifer) and the Khobar zone (termed 'B' aquifer).
Mountain Area
There are a total of 10 named mountains in the nation of Bahrain, in which the highest elevated mountain in the nation is Jabal and Dukhan which elevates upto 132 meters, and the smallest elevated mountain the Bahrain is Qurain adh dhirban which only elevates upto 23meters.
Postal Stamps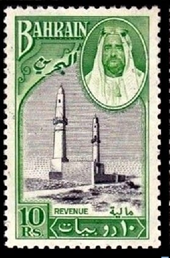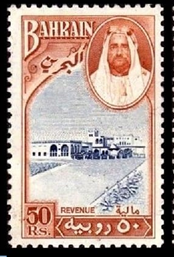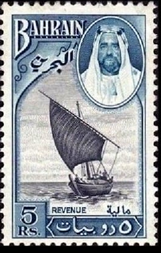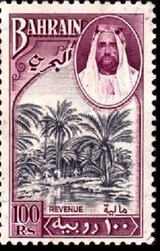 List of postal and courier services in Bahrain:-
UBEX
Eastern movers and cargo Bahrain
Overseas Courier services
Classic cargo
DHL service point
Super net cargo
Aramex Muharraq
World Seas Shipping company