Kazakhstan is an Asian nation which is situated in between Central Asia and partially in Europe. It is the largest landlocked nation and the world largest Muslim majority country with lower population. Kazakhstan is well known for its most unique way of celebrating their festivals. It is well known for holding Kazakhstan Nations Unity Holiday, Ramadan, Kurban, Khan Tengri Mountain Festival, Kazakhstan Golf Open festival, Constitution Day, Victory Day, Capital City Day, Republic Day, Independence Day, Nauruz, Biker celebration 'Protect Balkhash' are the most important and famous festivals.
Kazakhstan introduced their pin code system in 2015. In December 1991, the Kazakhstan gained independence and started its own post. During the period of 1999-2000, it was difficult for Kazakh Post when it transitioned to joint-stock companies. Immediately, the transformation covered all the activities of the postal industry. Currently Kazpost JSC is the sole shareholder (100% share) of the company Kazpost LLC (Germany). The pin code is segregated in such a way that each of the postal codes.
Land Area
Kazakhstan has been ranked as the 9th largest nation in the world, and it has a total land area of 27,24,900 km2, which comes to around a total of 10,52,100 mi2. Kazakhstan is bordered by Russia to the north and west, China to the east, Uzbekistan to the South and Turkmenistan to south-west.
Water Area
Kazakhstan has a total water area of 1.7 km2. The major sources of water include cloud harvesting, glacier, glacial lakes, groundwater, lakes, rainwater, rivers, snow, soil moisture springs, streams, water, waterfall, wetlands, etc. The important lakes are Caspian Sea, Aike, Alakol, Aral, Azhibeksor, Balkhash, Bartogay, Bolshoy Azhbulat, Chagan, Issyk, Jasybay, Kayindi, Kamyslybas, Kapchagay, Kopa, Markakol, Sasykkol, Tengiz, Zaysan, Zerenda, Zhasylkol,are main water source for drinking and industrial water.
Mountains
A total of 4,806 named mountains in the nation of Kazakhstan. Khan Tengri is considered as the highest peak with 6,995 meter above sea level. Belukha is the most important mountain with 4,506 meter height. Almost one third of Kazakhstan territory is occupied by the Kazakh Steppe (Plain), which is considered as the largest dry steppe region in the world.
Postal Stamps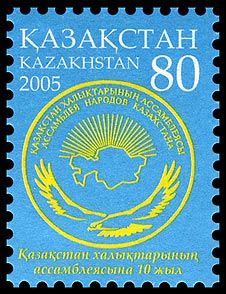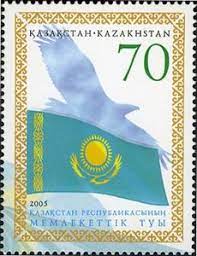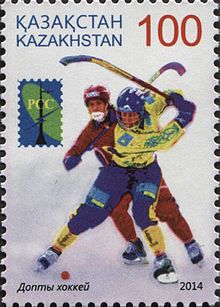 List of postal and courier services in Kazakhstan:
Expert Logistic Kazakhstan
ASE Asia Sky Express Kazakhstan
Too 'Alem Tat'
DHL Service Point
Emex LLP
Exline Courier Service
Avis Logistics
Direct Delivery
Too Eurasian Bridge Kazakhstan.