Bosnia and Herzegovina is commonly known as the Bosnia is a country located on the crossroads of south and southeast Europe, located in the Balkans. It is bordered by the Croatia on the north and southwest, Serbia on east, and Montenegro on the southeast. Sarajevo is the capital and largest city in Bosnia and Herzegovina. The other major urban areas include Banja Luka, Tuzla, Zenica, Bijelijina, Mostar, Prijedor, Doboj, Gorazde, Gracanica, Gradacac, Gradiska, Istocno Sarajevo, Konjic, Laktasi, Livno, Lukavac, Ljubuskki, Orasje, Prijedor, Srebrenik, Stolac, Visoko, Zvornik, etc.
The official languages of the country in Bosnia and Herzegovina are Bosnian, Serbian and Croatian. The people also write and speak in Latin, Cyrillic, etc. Bosnia and Herzegovina is well known for its unique way of celebrating its festivals like International Sarajevo Winter Festival, Banja Luka Choir Gathering, Kid's Festival, Bascarsija Nights, Summer on the Vrabas, Sarajevo Film Festival, Banja Luka Summer Games, Jazzfest Sarajevo, etc. Many foreigners or travelers also take part in the celebration and enjoy it.
Bosnia and Herzegovina postal code was founded on 1 January 1971 when it was a part of Yugoslavian. The territory is divided into 10 cantons and further sub-divided into 143 municipalities. At first, there was so much controversy over the places which were registered under the postal code office, but then slowly every region in Bosnia and Herzegovina got its own postal codes. The pin code is segregated in such a way that each of the postal codes.
Land Area
Bosnia and Herzegovina has been ranked as the 125th largest nation in the world and it has a total land area of 51,129 km2, which comes to around a total of 19,741 mi2. Bosnia and Herzegovina was divided into 10 Cantons and 143 Municipalities. Further, it was divided into cities and villages.
Water Area
Bosnia and Herzegovina has a total water area of 1.4 %. The major sources of water include groundwater, lakes, rainwater, rivers, snow, soil moisture springs, streams, water, waterfall, wetlands, etc. Bosnia and Herzegovina has more than 100 lakes. Many lakes are small in area and contain a minimum volume of water. Most of these lakes are freshwater and very few are salt lakes.
Mountains
Bosnia and Herzegovina contains more than 10,965 named mountains, the highest and most prominent of which is Maglic which is about 2,386 meters (7,828 feet). The other major mountains in Bosnia and Herzegovina are Volujak (7,664 ft), Veliki Ostrikovac (7,526 ft), Previja (7,526 ft), Rudinski Kom (7,457 ft), Prsti (7,450 ft), Badnjine (7,358 ft), Plocno (7,309 ft), etc.
Postal Stamps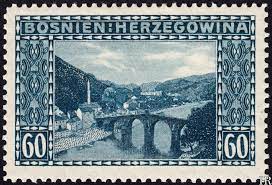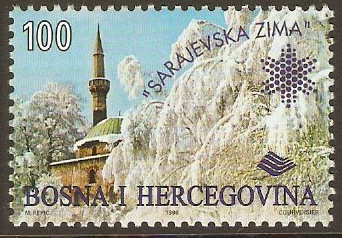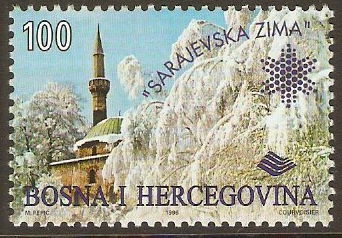 List of postal and courier services in Bosnia and Herzegovina:
Express Courier d.o.o. - ASC for UPS
Express One d.o.o
DHL Service Point
In Time - TNT Express d.o.o.
MHS d.o.o.
Korpa.ba
Hrvatska Pošta d.o.o Mostar
Express One d.o.o. - Tuzla
CityEX
MBE Mail Boxes Etc. Sarajevo
Kurir Servis d.o.o
Express Courier
DB SCHENKER