Bangladesh is a country in Southern Asia and is located on the Bay of Bengal bordered by India on all sides except for a small border with Burma. Bangladesh has flat plains, and most of the country is situated on deltas of large rivers flowing from the Himalayas.
On the northern coast of the Bay of Bengal, is surrounded by India, with a small common border at Myanmar in the southeast. The country is low-lying river land which flows into many branches and tributaries of the Ganges and Brahmaputra rivers. Tropical monsoons, frequent floods and cyclones inflict heavy damage in the delta region.
From an administrative point of view, Bangladesh is divided into eight units (Divisions), which are also divided into 64 districts. The eight divisions in Bangladesh are shown as follows; Barishal, Chittagong, Dhaka, Khulna, Maimansingh, Rajshahi, Rangpur and Sylhet. The ZIP codes in Bangladesh consist of four digits which are assigned to the various districts respectively to the administrative units.
Normally, the word "thana" in South Asia indicates a police station. The concept can also be extended to certain areas controlled by a police station. In this "Thana" sense indicates a subcategory of the district. Therefore, the 64 districts of Bangladesh are divided into 490 units sometimes which is called "upazilas". Comparable to this concept is for example the "district" in Germany. The zip codes of Bangladesh are segregated in such a way that the first 2 digit out of 4 digit zip code which indicates the head post office of main regional town and the final 2 digits of the zip codes indicates the secondary post office in the town.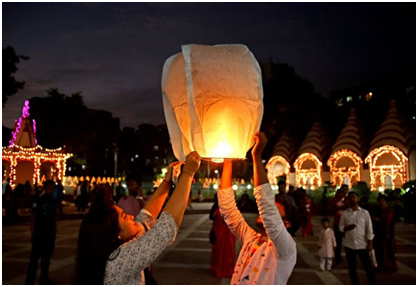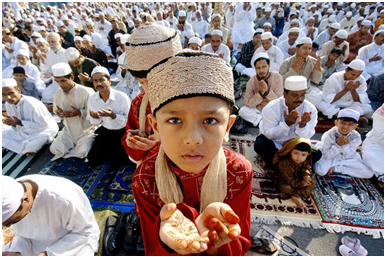 Tradition
Bangladesh is a predominantly Muslim country, and Islam's adherents in Bangladesh celebrate the joyous festival of the two Eids, Eid-ul-Fitr, and Eid-ul-Azha, the month of Ramadan, Shab-e-Qadr, Shab-e-Barat etc. Hindus in Bangladesh celebrate Durga Puja, Kali Puja and Janmastami.
Lands
Bangladesh lands are bounded to some neighbourhood countries lands like Nepal, Bhutan, China, Myanmar and mostly by India. Bangladesh covers the total land area of 148,460 km², which has ranked 92nd largest nation in terms of lands.
Water area
Some part of Bangladesh is surrounded by water which is 6.4% in total if calculated in percentage. Some of water even comes from himalayan river and even from bay of bengal and Andaman sea.
Mountains
Saka Haphong at Mowdok range in Bangladesh has the highest evaluation of 1,063 metres, in the southern part of hilly region of Bangladesh. Mountain area occupies the 12% area in the country and some part of the mountain also lies between Nepal.
Unitary Divisions Of Bangladesh
Dhaka
Chittagong
Barisal
Khulna
Rangpur
Rajshahi
Sylhet
Mymensingh
The last two digits of pin code indicates the secondary post office in the area.
Post office
The Post Office Act 1866 was introduced in 1867. In September 1878, they started the post office in East Bengal Circle and the headquarters was formed in Dhaka. The delivery offices were formed in Chittagong, Mymensingh, Comilla, and Noakhali . And there are a total of 2750 post offices. This service was commercially launched in a limited scope (in 104 post offices) on 10 May 2010. However, in response of overwhelming demand, this service has now been expanded in 2750 post offices throughout the country including all district Head Post Offices, Upazila and important/busy rural Post Offices.
Types of postal stamps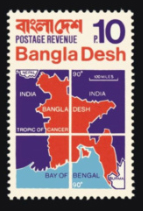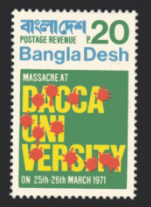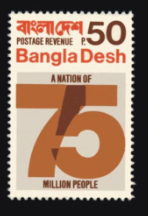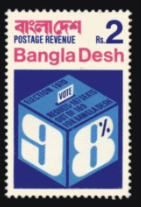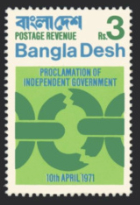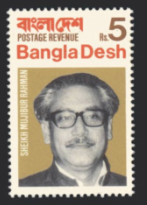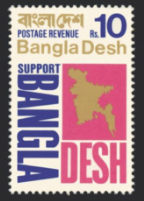 These are the first eight postal stamps which were issued and used in Bangladesh with their cost mentioned below
The first stamp costs 0.10 Taka (currency of Bangladesh)
The second stamp costs 0.20 Taka
The third stamp costs 0.50 Taka
The fourth stamp costs 1 Taka
The fifth stamp costs 2 Taka
The sixth stamp costs 3 Taka
The seventh stamp costs 5 Taka
The eighth stamp costs 10 Taka
Some of best courier and mailing services which are mostly used in Bangladesh
Global mail express
Sundarban courier service PVT. LTD
Master Air International Courier
Overseas Courier Service
Dreamland Courier Service Limited
MR Trade Services
Azad Express Parcel Service LTD
Dhaka Courier Services
Aramex International
World Vision Bangladesh
Karatoa courier Services LTD (KCS)
Freight Express LTD
Rainbow Parcel Service LTD
Pioneer Courier service Ltd
Bangladesh National Courier Service
Speed Post Express
World Runner Express LTD.